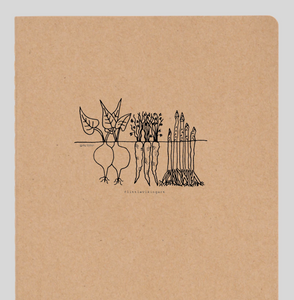 You make by heart beet. 
I carrot live without you! 🥕 
Kick some asparag-as. 

According to the people who are in charge of the food pyramid, this veggie notebook satisfies your daily dose of vegetables.* You're welcome! 
*Claim not actually substantiated by anyone but myself. Please eat your veggies.
This 5x7 notebook is perfect to toss in your bag, put on your bed side table or take to the garden as your field journal! Made of recycled material and is also an EcoSmart product where 1% of annual sales are donated to environmental causes. So this notebook is a double whammy - help the environment AND fight cancer! 💪🏼
Please remember 100% of profits will be donated to cancer research. Check back for updates on how much we've been able to donate!