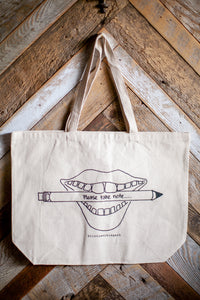 Are you out of school but part of you longs to go Back to School shopping just one more time to get all the sweet Lisa Frank folders, fresh crayons and crisp new notebooks? This tote bag is right up your alley, sista. 
I am a firm believer that no one has enough reusable tote bags. I think my partner would disagree with that when he has to swim through the bags in the back seat to find his water bottle, but that's inconsequential. If you are like me and love tote bags more than the goodies you can put into them, you are on the right page of the internet.
Design printed on a lightweight 100% cotton tote bag. Bag measures 20"W x 15"H x 5"D. Excellent grocery tote, kid gear tote, lunch tote and all around stuff tote. 
Please remember 100% of profits will be donated to cancer research. Check back for updates on how much we've been able to donate!