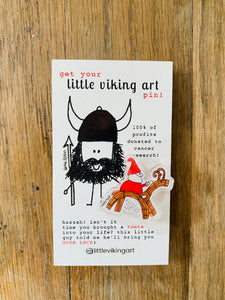 If you are Scandinavian or been around any Scandis or even just in a strongly Scandinavian location around Christmas time, you've definitely seen a Tomte. Or a Nisse. Or a Tonttu. 
Art museums? Gran's house? IKEA? 
If you are unfamiliar with this concept, the tomte is a gnome type creature who helps protect a family, home and farmstead for the humans who live there. It is said that they are hard workers who don't like change and demand respect. They will spend time in the barns tending to your livestock but only if the stalls are mucked and the space is cozy. They ask for little in return for the work they do, simply to be treated with kindness and to be given a bowl of porridge on Christmas Eve. 
With this little pin, you too can have a little tomte in your life. And if you don't feel this little one brings enough good luck and safety to your home, maybe try cleaning up a bit. Perhaps the tomte who would like to be there is disgusted by your dirty socks sitting right next to the laundry basket. 
These acrylic pins measure 1.2"x1.25" and have a rubber back to hold in place.