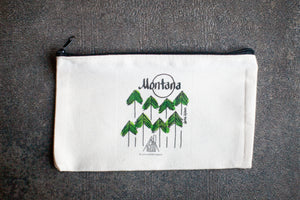 Do you have stuff? And are you running out of places to put the stuff? Or do you constantly find you are losing the nail clippers, a pen, your chapstick, all those gift cards from grandma? We have a solution! These zipper pouch are the perfect option to hold those little possessions. 

Who doesn't want to visit a cabin in the woods of Montana? It's quiet, it smells good and there's probably even a rocking chair on the front porch to nap in. Come on out for a visit! But if that isn't on your immediate agenda, grab this zipper pouch now to store all your trinkets. 
Measuring right around 4.5" x 8" and printed in the US. We make our zipper pouches with 5 of our most popular designs so you can't go wrong when selecting. Perfect for storing little bits and bobs in backpacks, your office, the bathroom or pretty much anywhere!