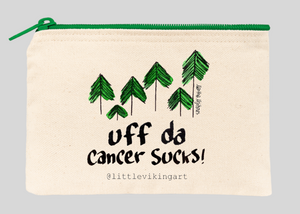 Cancer seems to be the beast that has touched everyone, young and old. I know countless people who have had a loved one battle and win or battle and succumb to cancer. I know I'm not alone when saying that cancer SUPER sucks! Big time. 
Because of that, I came up with a line of products to bring us all together over this shared belief. This is a collaborative product with my mom and myself - I used her original art, cut and spliced, twisted and tweaked and came up something I think she would be pleased with. 
Since the main goal of Little Viking Art is to raise money for cancer research so future generations won't have to suffer its wrath, these are unique pieces at a higher price. 
As a reminder, 100% of profits go to cancer research. 
All of our zipper pouches measure 7.25" x 5" and are screen printed in the US. Perfect for storing little bits and bobs in backpacks, your office, the bathroom or pretty much anywhere!