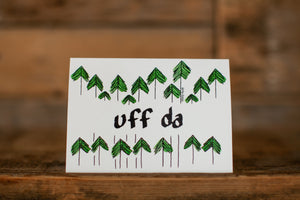 Since putting this gem out in the world, several people have said, "What does Uff Da mean?" Funny! It's been a part of my language so long, I have a hard time answering that question. It is all purpose and it just IS!
So, I took to Google.
"Uff da is of Norwegian origin. It's common in the Upper Midwestern states of the United States. It can be used to express surprise, astonishment, exhaustion, relief, and dismay. It roughly means "drats!," "oops!," "ouch!," "Oh no!," or "Okay!." It has become a mark of Scandinavian roots."
Here are situations where I would say, "uff da"

Dropping your only egg on the floor. Better yet? Pulling that move during a blizzard.

Eating hot soup with a runny nose.

Spending fifteen minutes getting your kiddo dressed to play in the snow, only for him to now tell you he has to go to the bathroom! 
 Since the term is all purpose, I feel this card is the same. A good one to have on hand!
All of our cards measure 4x5.5, are printed on a smooth, matte 100% recycled paper, include a simple yet stylish kraft paper envelope and are individually wrapped.

Please remember 100% of profits will be donated to cancer research.